Guest Medium – Simone Jones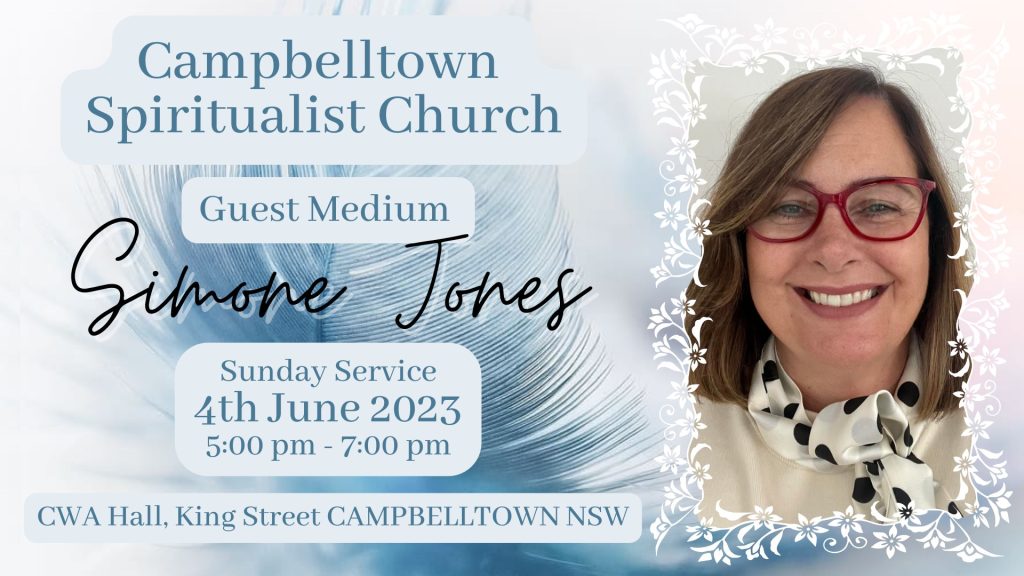 Join Campbelltown Spiritualist Church with our weekly service.
Guest Medium Simone Jones will be delivering an address, meditation, and readings.
Simone is a Psychic, Intuitive Medium. Her skills have been inherited from both her maternal side and paternal side of her family. Simone has taken part in development circle for 13 years both in the UK and in Australia and has trained with some of the world's most renowned Mediums, fine tuning her craft. Simone has worked on platform for churches in Australia and the UK in person and via Zoom as well as working at the MBS exhibition.
You can find Simone working at New Moon in Castle Hill as well as providing private readings and psychic parties.
Simone's contact links and details below:
Facebook:
Simone Jones Psychic Intuitive Medium
Copy paste link below:
https://www.facebook.com/simone.jones.5074644
Email: simoneyones@me.com
Mobile: 0427 124 684
** If anyone has any further queries, feel free to message the church email.
info@campbelltownspiritualistchurch.com
Hope to join you all there.